Virginia Lee Montgomery
In the series 6 ½ Weeks Museum Folkwang presents from 9 May till 23 June 2019 the first institutional solo show by Virginia Lee Montgomery (born 1986) to be held in Europe. Her video piece PONY HOTEL (2018) brings together symbolically charged elements in various combinations and interactions that open up a multitude of associations: a hand with manicured finger Danish pastry, white syrup drops onto a watch, braids in several variations – sometimes made of blond or coloured strands, other times suspended as if bodiless – develop a life of their own.
The pony tail is the key protagonist in PONY HOTEL and simultaneously visualizes an actual aspect of Montgomery's own work. Aside from her work as an artist Montgomery freelances as a graphic facilitator and travels throughout the United States to conferences where she provides the live visualization. She often uses the hotel room she stays in as the setting for her videos. Then in the studio in a fast edit she combines the sequences with an unusual soundtrack that consists of a mixture of background noises and sounds from nature. The resulting interplay of audio and visual elements produces an enigmatic, surreal atmosphere.
In Museum Folkwang Virginia Lee Montgomery combines her work with a sculpture from the collection: A superficial interest in flowing, pouring out and spilling liquids provides a link between George Minne's L'homme à l'outre (Man with Wineskin, 1897) and PONY HOTEL, without detracting from the manifold levels of meaning in the dripping, flowing, spurting liquids. Notwithstanding the different epochs, styles and media involved in the dialogue between the two works an interplay is created that is characterized by our search for the hidden meaning of things.
We made an interview with the artist and were asked to produce the exhibition trailer.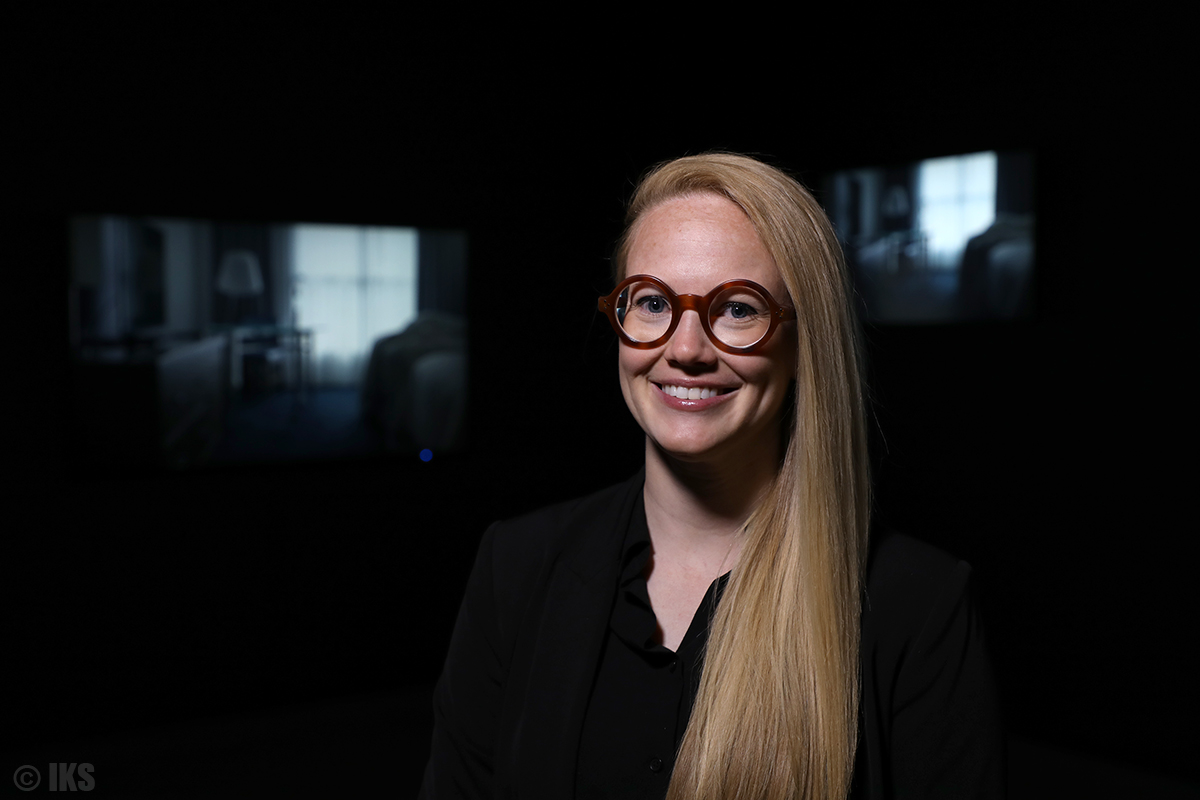 Foto: Isabel Hernandez © IKS-Medienarchiv