Vika Kirchenbauer
Vika Kirchenbauer is an artist, filmmaker, writer, and music producer. Her work has received wide-ranging international attention.
Kunstverein für die Rheinlande und Westfalen, Düsseldorf presented FEELINGS THAT MOVE NOWHERE, the first institutional solo exhibition by Vika Kirchenbauer. In her videos, video installations, performances, and films, the Berlin-based artist negotiates regimes of gaze, power, and visibility as well as the norms and patterns of representation inscribed in them based on her own biography. The exhibition shows selected works of the last ten years along with three new productions. In her new video work THE CAPACITY FOR ADEQUATE ANGER (2021) Kirchenbauer develops a personal and self-reflexive form of artistic critique that considers contemporary art, in its forms of production and presentation, from a perspective of class. Alongside questions around the intersection of negative affect and political agency, the work problematizes notions of upward mobility that the field of contemporary art simultaneously produces and presupposes. In this work, two strands of Kirchenbauer's video practice converge: the personal and autobiographical investigation of societal power relations, and the preoccupation with established routines of looking at and experiencing the physical or visual presence of marginalized bodies in the exhibition space. Finally, the spatial installations PLAYING FIELD (2021) and SPECTRAL SENSITIVITY (2021) provide the setting for the presented selection of works, thus transferring Kirchenbauer's examination of gaze regimes from the pictorial space into the exhibition space of the Kunstverein.
We met the artist for an exclusive interview at the Kunstverein Düsseldorf in 2021 and made a film documentation of her show.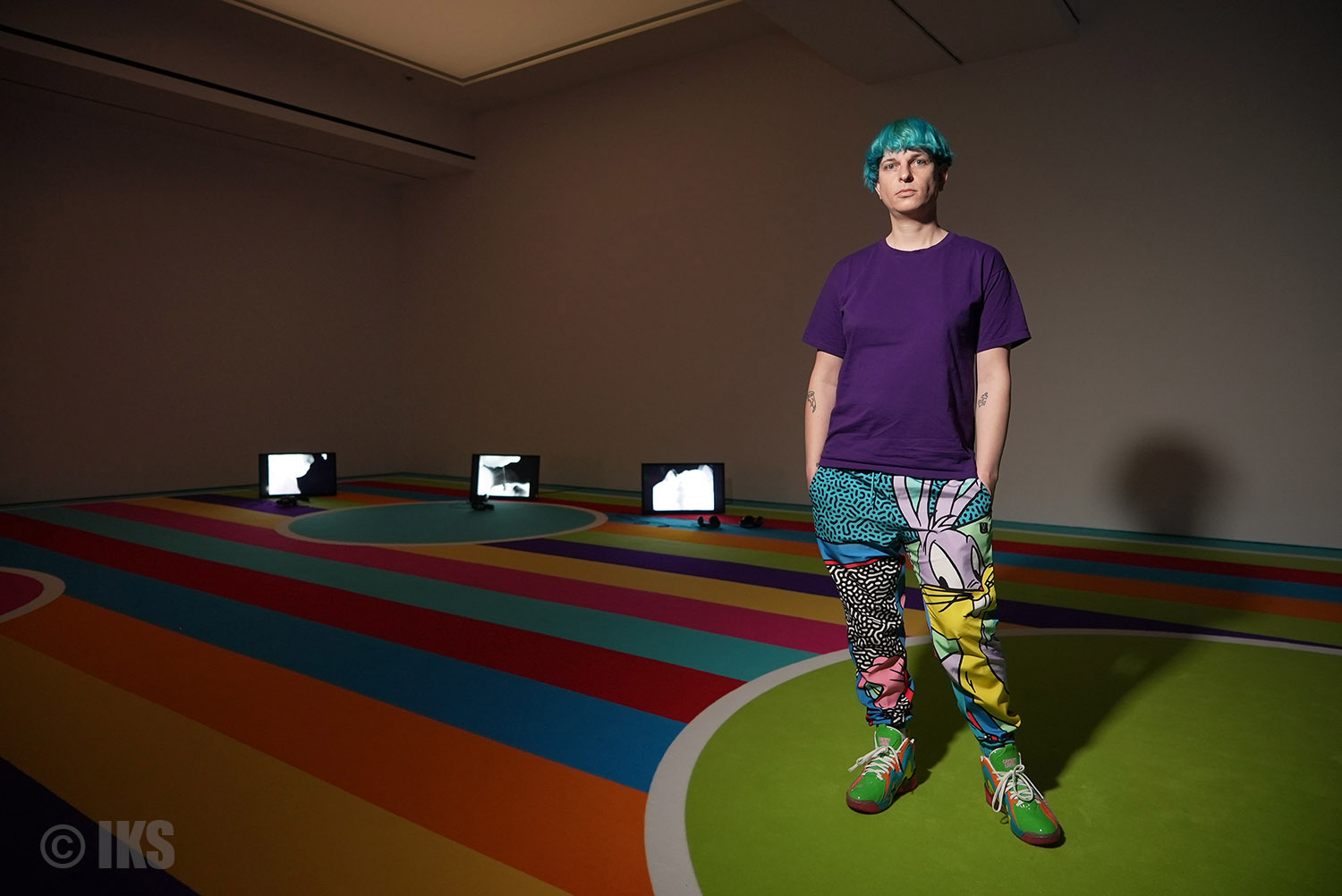 photo: Ralph Goertz © IKS-Medienarchiv