Joachim Brohm
Joachim Brohm (born in Dülken, Germany) is a photo artist who counts as an important representative of German contemporary photography since the 1980s. In contrast to the photo artists of the "Duesseldorf Photoschool", Brohm was more inspired by American photographers such as William Eggleston and Stephen Shore. In his works he often to deals with urbanity and the process of temporal and sociological development of places and spaces.
Today Brohm teaches at the University of Graphics and Book Design in Leipzig.
Since 2010 we have been working on a documentary about the Brohm, who has made an important contribution to color photography in Germany with series like "Ruhr" or "Ohio" and the recognition of the medium of photography as part of contemporary art. The small trailer gives a first glimpse of Brohm's working method and at the same time it presents the upcoming film project "JOACHIM BROHM - PHOTOGRAPHS 1979 - 2020". The documentary by Ralph Goertz will be released in autumn / winter 2020!
"For me, the Ruhr was where my studies took me. I tried to familiarize myself with my new surroundings, to see where I had landed and check out the terrain. How do people behave here and what am I doing here anyway? It was definitely a process of intense self-questioning, a process of appropriating the place for myself." (Joachim Brohm in an interview with Ralph Goertz, Leipzig, November 2018)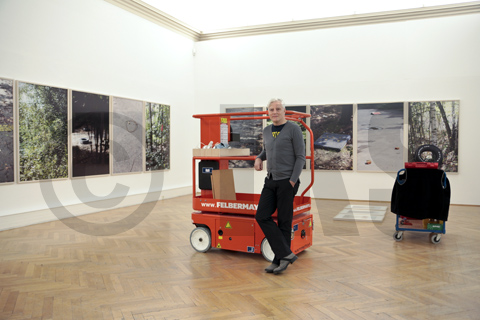 Photo: Ralph Goertz © IKS-Medienarchiv