Balthasar Burkhard
Balthasar Burkhard
October 20, 2017 – January 14, 2018
Balthasar Burkhard's work reflects like few other artistic oeuvres the self-invention of a photographer. It tells the story of the artistic career of the photographic medium in the second half of the 20th century. The Balthasar Burkhard retrospective, spanning 150 works and work groups, is the first large-scale appraisal of Burkhard's work by a German museum. It traces the multi-facetted practice of the Swiss photographer by stages. At the core of his artistic work we thus find monumentality, fragmentation and the transcendence of the photographic medium by transposing two-dimensional images into spatial installations.
In the 1960s, Burkhard trained in black-and-white photography under Kurt Blum, one of the most notable Swiss photographers of his generation, before establishing ties to the lively contemporary art scene of Bern. He accompanied the work of ground-breaking curator Harald Szeemann, providing the photographic documentation of the documenta of 1972, among other things. Burkhard's photographic diaries of that time are on view for the first time now in a comprehensive overview. Balthasar Burkhard soon emancipated himself from his role as chronicler of the art world and became an artist in his own right: In 1969/70, he developed his first stand-alone works as large-format photo-canvasses together with Markus Raetz.
He created further tableaus on canvas in Chicago in the 1970s, having accepted a lectureship position at the University of Illinois. In the early 1980s, Burkhard returned to Switzerland, where his works were shown in now legendary exhibitions at Kunsthalle Basel (1983) and Musée Rath (1984). His artistic engagement with the body – as human landscape or as fragment – became highly significant to his work from this point onwards. The retrospective makes Burkhard's work group of nudes and body fragments visible once more by showcasing the surviving material in the shape of studies and sketches as well as reprints.
The photographer's late work, which includes architectural photographs and aerial views of cities and deserts, as well as plant studies in the style of the 19th century, concludes the exhibition.
We were asked to produce the official trailer for the exhibit at the Museum Folkwang Essen.
Our archive contains a large video documentation of the exhibit with an interview on Balthasar Burkhard by curator Florian Ebner and Burkhards wife, Vida Burkhard.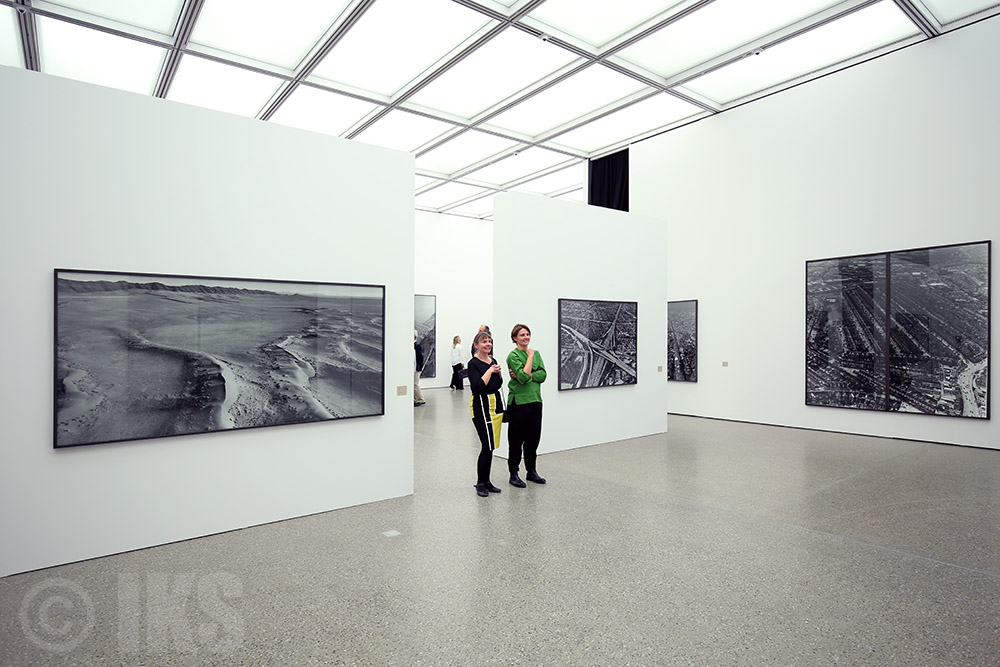 photo: Ralph Goertz © IKS-Medienarchiv