Ricarda Roggan
Ricarda Roggan is one of the most important photographers in Germany. With the exhibition Ex Machina, Roggan approaches the essence of disused or obsolete machine objects. In austere objectivity, Ricarda Roggan portrays items that have been marginalized, have forfeited their function and have become legacies of an earlier era. These are composed as arrangements in a purged environment. Following this scheme, the typology of a forgotten world of things opens up to us. In Roggan's precise constructions, an analytic spectrum of object-space relationships unfolds.
Wrecks of ambulance vehicles and decommissioned video game machines at the threshold between analog and digital technology are arranged by Roggan out of the partial darkness. Covered with a thick layer of dust or covered with plastic tarpaulins. These casings were once considered speed guarantors or simulants, but now stay in immobility. Both types of objects are victims of time - a virtual entertainment culture that could not fulfill their promise of futurism. A reset to its original state is no longer possible.
The Latin dictum ex Machina literally translates means from the machine and is a fragment of Deus ex Machina, proverbially a dramaturgic term from theater technique. Using a hoist, the intervention of a deity could be staged in a Greek theater, for example. This technique allowed an immediate, often surprising intervention in the course of narration.
Ricarda Roggan dissects photography in her own causal moment. Technique that portrays technique. The machine that illuminates itself. In Roggan's productions the objects are both the protagonist and the illuminator. The light beam becomes the cathartic moment.
Whether Roggan gently devotes herself to mechanical invalids in their shadow existence or if she peels off the massive formations of cave entrances, she always generates an analogy of positive-negative points in which the objects can only now be formulated. She cleans up the pictorial space and gives the void the possibility of being filled with new aspects. Born 1972 in Dresden, photographer Ricarda Roggan studied at the Academy of Visual Arts in Leipzig in the class of Prof. Timm Rautert. This was followed by two years at the Royal College of Art London in the Photography Department.
Her works are represented in public collections such as the Bund Collection of Contemporary Art, Bonn; Collection of the German Bundestag, Berlin; Photographic Collection of the Museum Folkwang, Essen; Art Fund of the Free State of Saxony, Dresden and State Art Collection, Dresden. Since 2013, Ricarda Roggan has held a professorship for photography at the State Academy of Fine Arts in Stuttgart.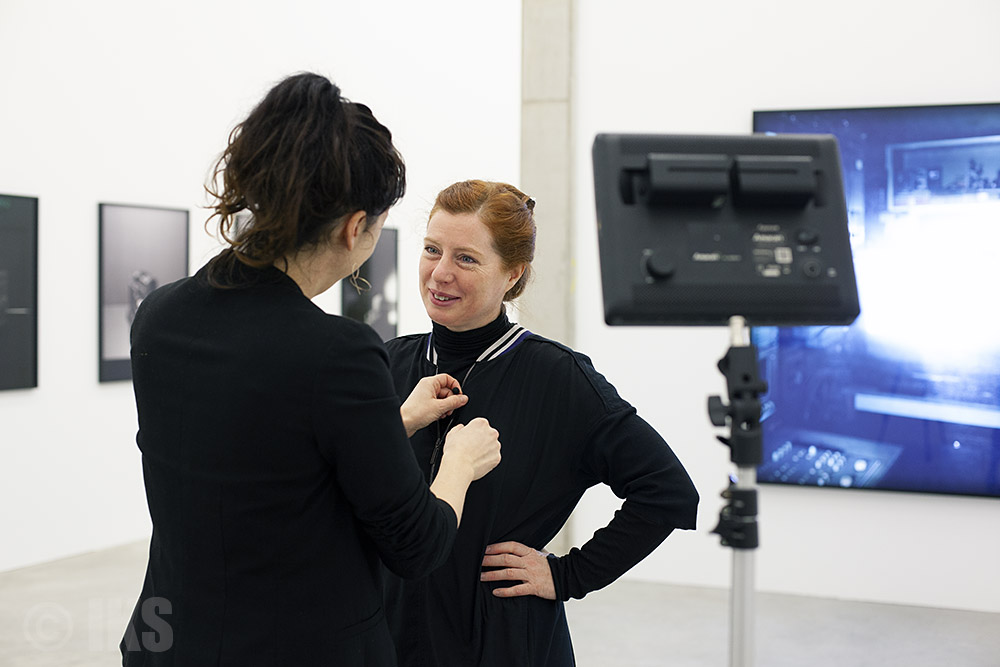 We met the artist at the Philara Collection during her solo exhibition "Ricarda Roggan. Ex Machina" (31 Jan. 2019 - 17 March 2019) for an interview.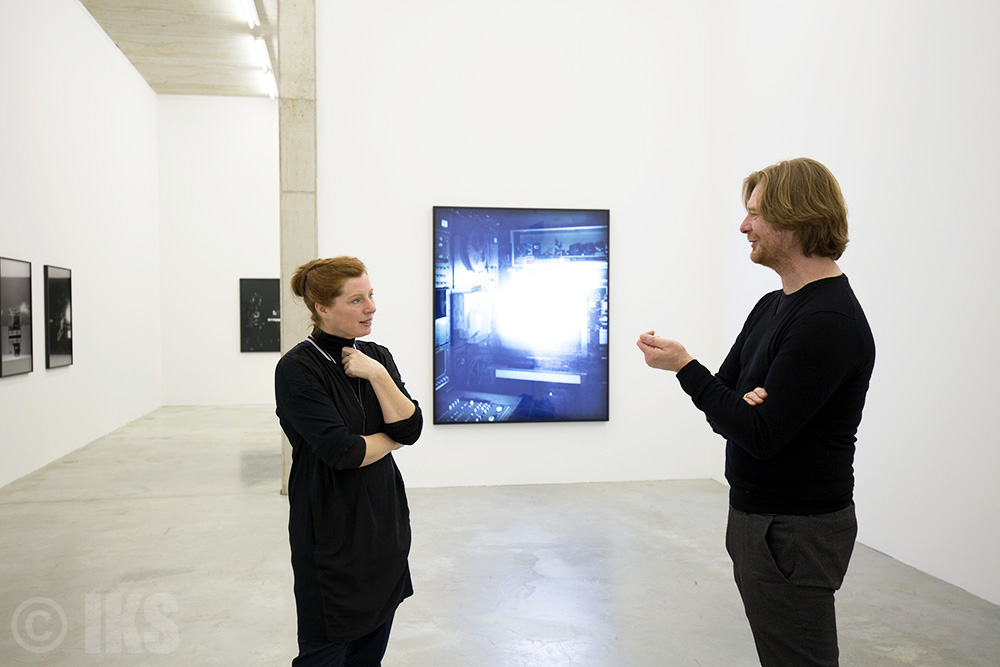 Ricarda Roggan, Ralph Goertz
photo: Isabel Hernandez © IKS-Medienarchiv