Zusammenleben
Joachim Brohm – Ute Mahler – John Myers
13 Sept 2020 - 3 Jan 2021
Kunsthalle Darmstadt
curated by Ralph Goertz
'Living Together' brings together photographic positions by Joachim Brohm, Ute Mahler and John Myers from the 1970s and 1980s, each of which in their own way focuses on the human being.
"The large groop of works, which were formed at about the same time in the Ruhr area, in the GDR and in England, combine to form an elaborately staged view of parallel living worlds, developed close and directly in the everyday life of the the people."
Christoph Schütte, Frankfurter Allgemeine Zeitung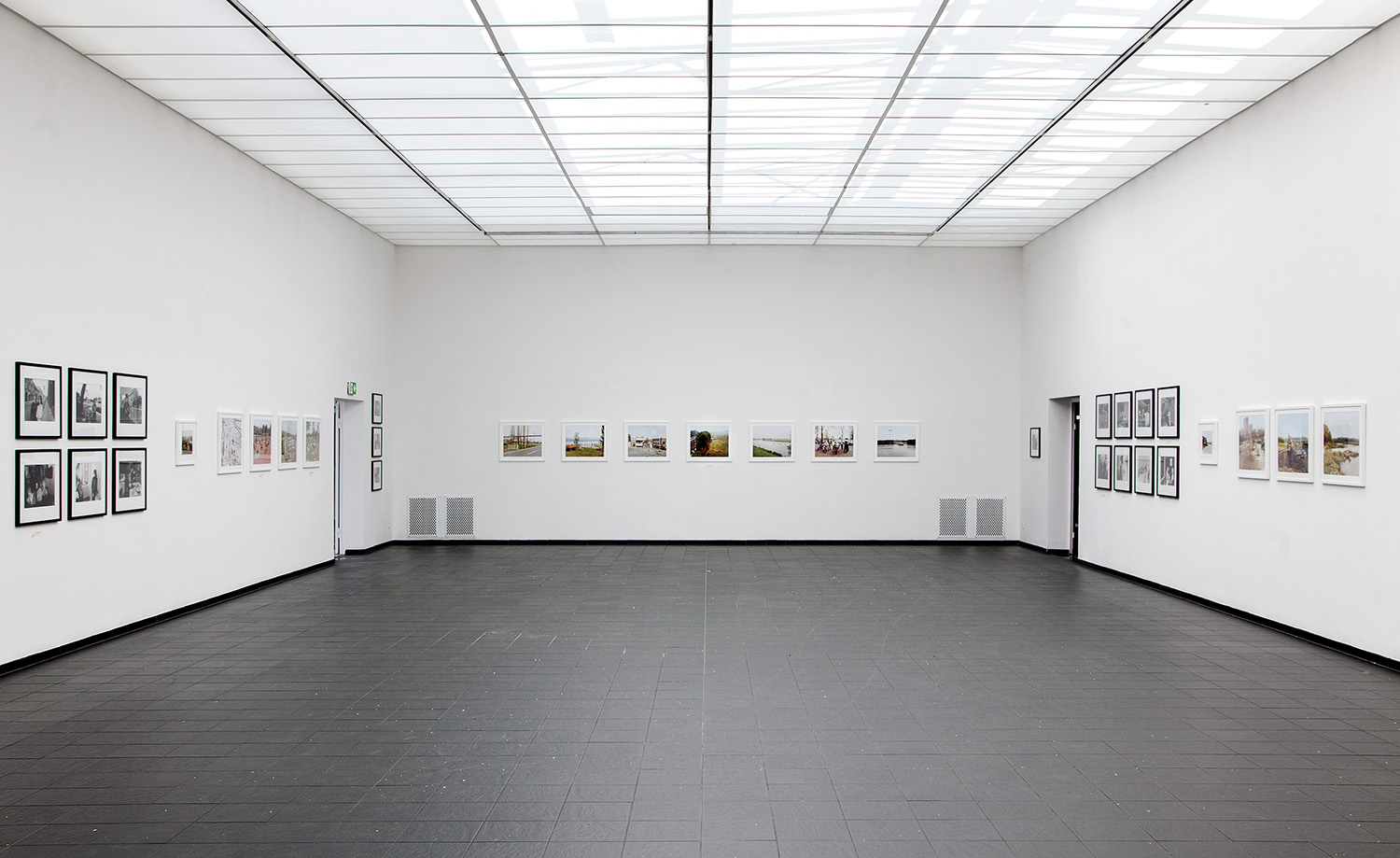 Zusammenleben. Joachim Brohm, John Myers, Ute Mahler
The starting point is the series of the same name Zusammenleben (1971-1988) by Ute Mahler, which tells of life and everyday life in the GDR. In his Ruhr series (1981-1983) Joachim Brohm turned his attention to the transformation of the Ruhr landscape from a once prosperous coal and steel region into a leisure and excursion destination. In his series Middle England (1970-1974), the Englishman John Myers focused his camera on people from his immediate neighbourhood, thus drawing a picture of English society between everyday life and work.
At first glance, the exhibition brings different artistic points of view into dialogue and provides insights into the coexistence of people in the FRG, GDR and the United Kingdom. Without directly addressing the prevailing political systems, the three photographers* provide an unembellished, direct, but also emphatic view of their own environment and life, thus conveying their artistic attitude towards people and the medium.
The exhibition was conceived by Ralph Goertz as part of the 11th Darmstadt Photography Days (23.10. - 01.11.20).
Joachim Brohm
Ruhr (1981-1983) resembles the stocktaking of a region which has developed from a former industrial zone into a leisure and residential area. Along the river Ruhr in Mülheim, Werden, Essen, Bochum or Gelsenkirchen he took pictures for his dissertation with a compact Plaubel 6x7 medium format camera.

In works such as Bochum, 1983, he shows from an elevated position people conquering the banks of the Ruhr with tents, temporary barbecue areas and rubber dinghies and transforming it into a place of leisure. Due to the slightly tilted bird's-eye view, the figures are evenly distributed over the picture surface. Their equal rights are not only interesting from a formal point of view, but can also be related to the claimed right to leisure time in terms of content. In this respect, the pictures resemble the crowds of people in Andreas Gursky's early photographs.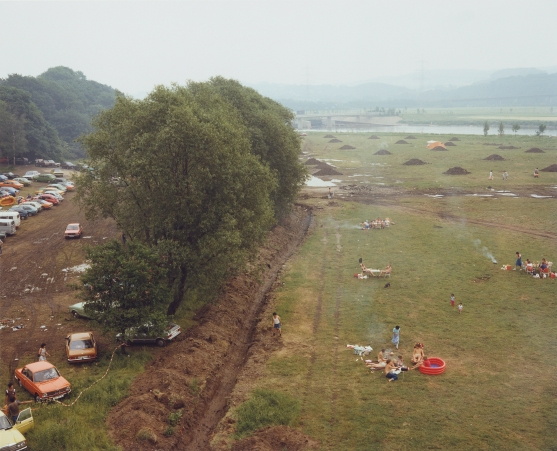 Joachim Brohm, Bochum, 1983 © Joachim Brohm und VG Bild-Kunst, Bonn 2020
Rarely are individual people so much in the spotlight as the young visitors to a leisure pool in Gelsenkirchen. Brohm sketches the Ruhr landscape as a social meeting place with an eye for detail as well as the whole.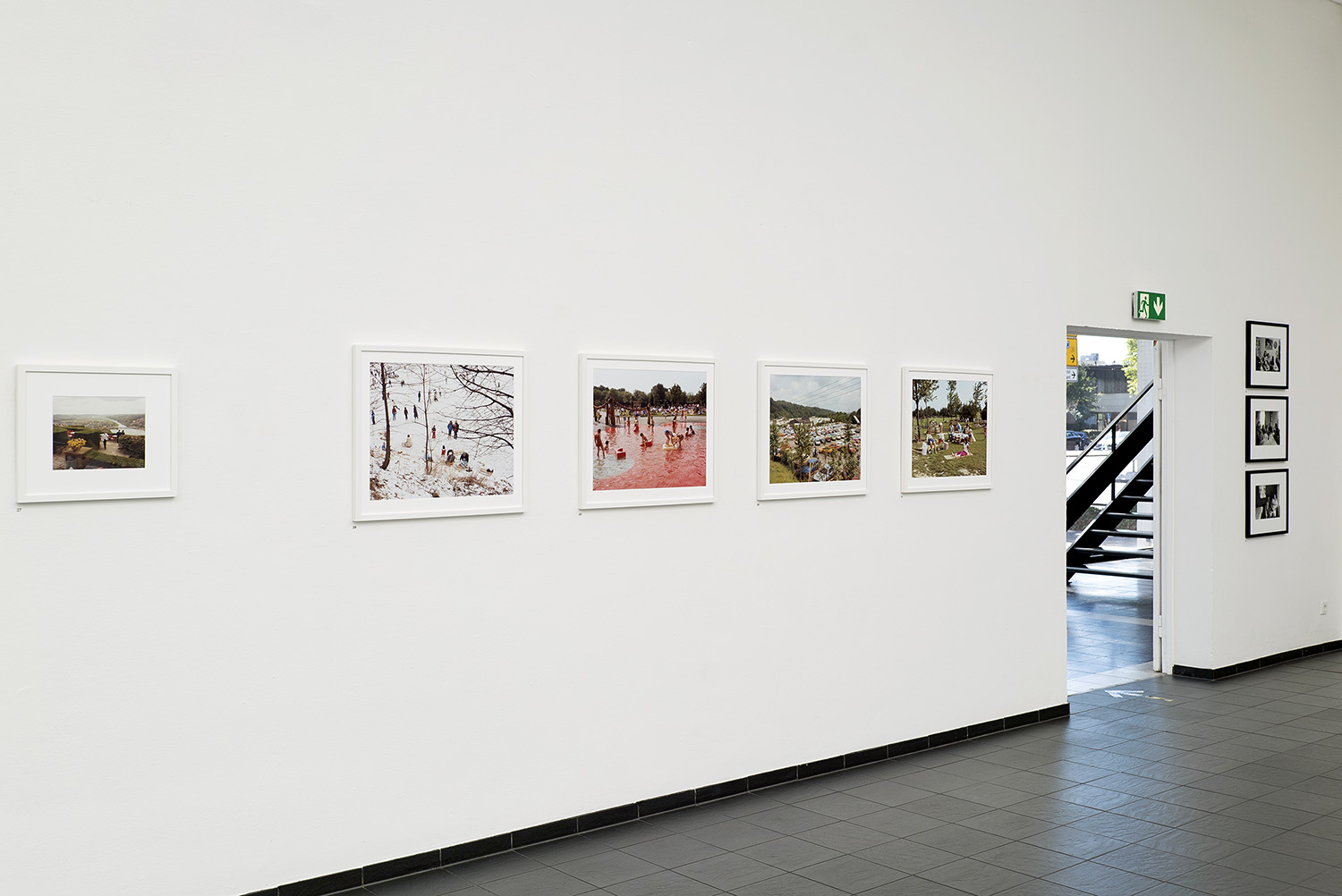 Joachim Brohm, Ruhr-series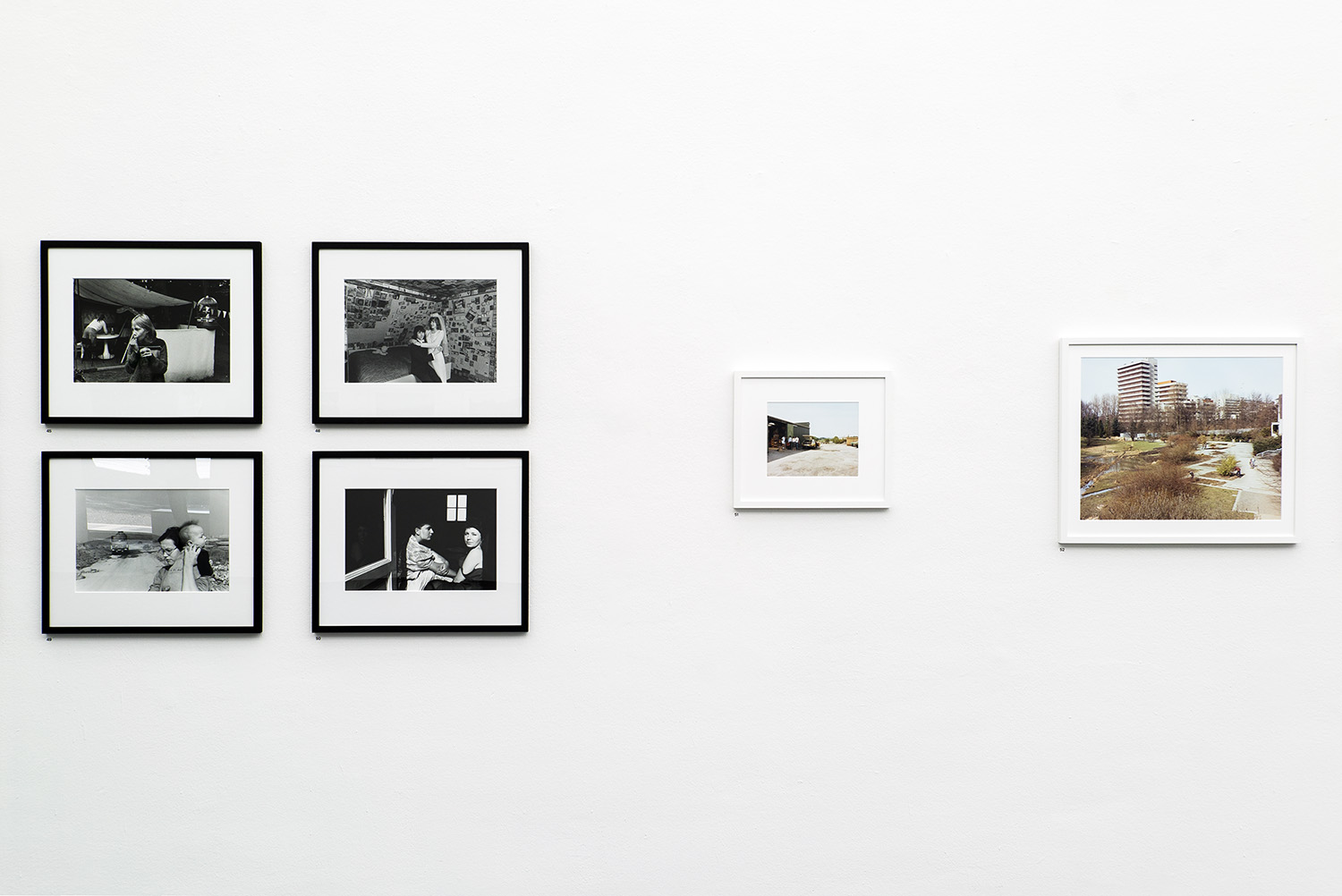 Joachim Brohm in dialogue with Ute Mahler

Joachim Brohm travelled to the French Atlantic coast in 1982 with the experiences of his Ruhr pictures in his luggage. His series Paradis I and Paradis II, created there, again deal with the escape from everyday life into a differently regulated form of living together. They are being exhibited publicly for the first time at the Kunsthalle Darmstadt.

In Paradis I he describes beach life as a 7-part panorama. People lie in the sun, children play, bathe and enjoy the most beautiful time of the year. However, not only the idyll is shown, but also the narrowness of the place, concrete and high walls. Utopia and reality collide.
Similarly, Joachim Brohm unmasks a post-war modern utopia of life in his Paradis II series, in which he places a new development near the beach (building project "Le Paradis" in the municipality of Fouras) at the centre of his already sociological investigation. He photographs the private homes designed on the drawing board, deserted, with details such as rusty lampposts and rampant undergrowth, as if they were no longer or not yet inhabited.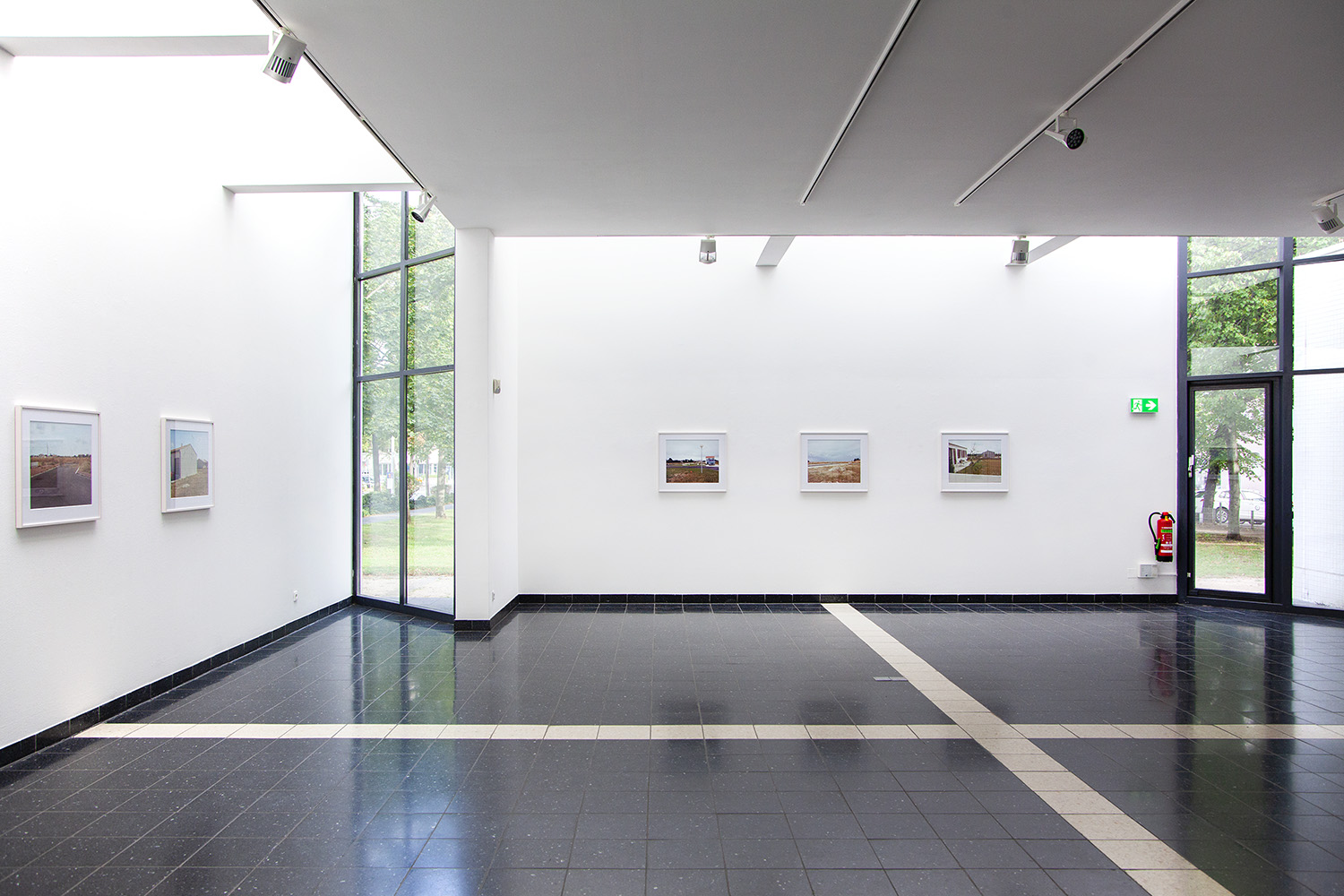 Joachim Brohm, Paradis, 1982
"Highly worth seeing exhibition"
Christoph Schütte, Frankfurter Allgemeine Zeitung
Ute Mahler
Between 1974 and 1984, Ute Mahler produced black-and-white photographs of everyday life in the former GDR, which she combined in what is probably her best-known series, Zusammenleben. At the Kunsthalle Darmstadt, this series will be extended by rarely shown pictures from the early 1970s and late 1980s.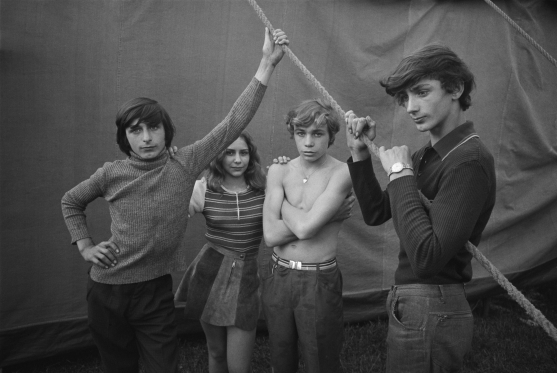 Ute Mahler, aus dem Zyklus «Zusammenleben», 1973, Aue © Ute Mahler

The official GDR, the state-regulated life in it, is excluded. As a reminder of this, Ute Mahler shows a framed photographic portrait of Erich Honecker on a room wall, hovering above a young model who is currently putting on make-up. In capturing such unexpected encounters, Ute Mahler detaches herself from the documentary. Her orders of men, women, children, friends and strangers can also be understood as symbolic of life and conditions in the GDR.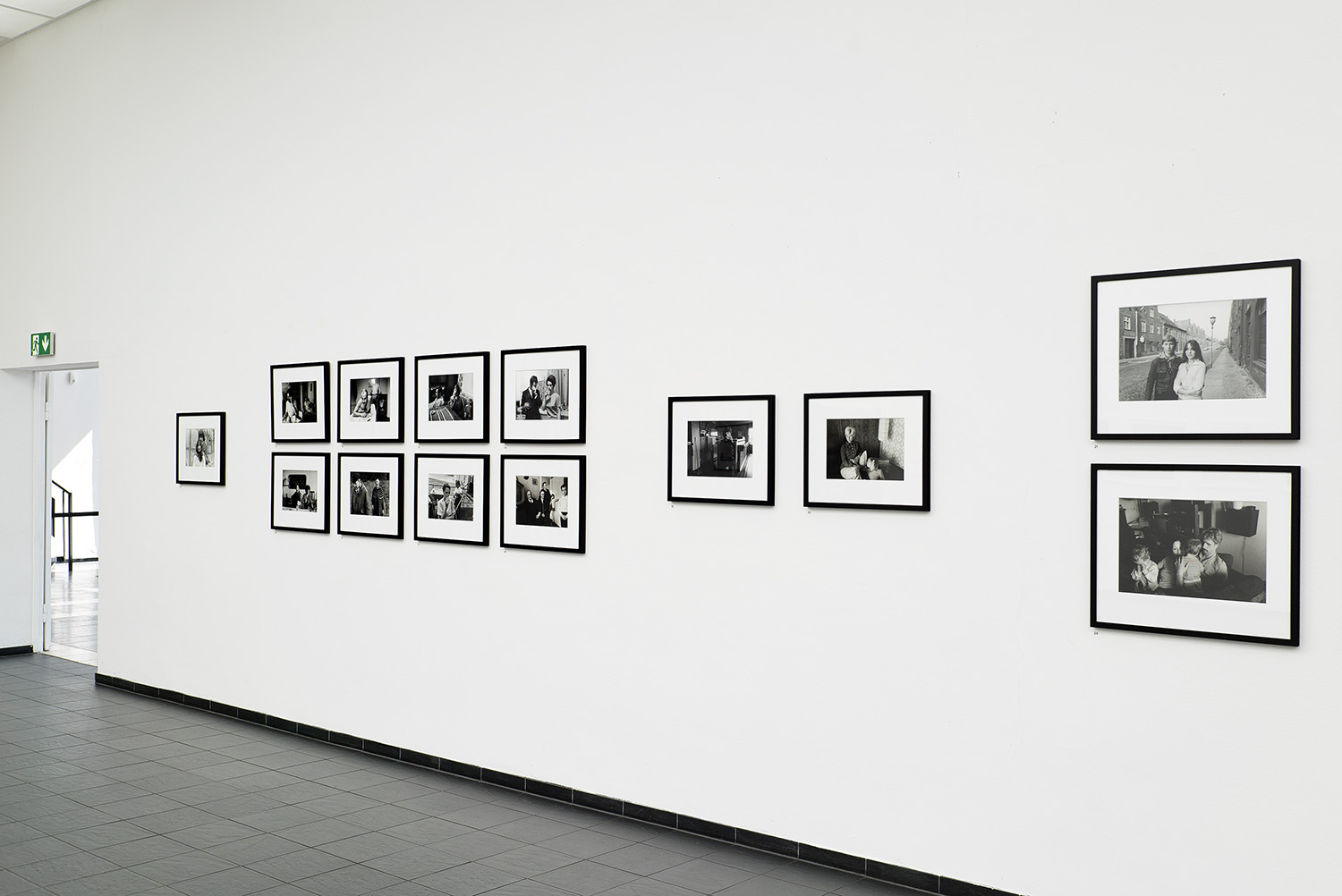 Ute Mahler, Zusammenleben

In her often wide-angle photographs, Ute Mahler captures a kaleidoscope of the private, no matter where, even in public or semi-public spaces. She does not stage, but waits for the moment, which, as she once told the curator, surprises her herself. Her pictures convey, already in their looks, just as strongly feelings of distance as those of closeness. They bring to light constellations of pairs and hierarchies of power. It is often a small gesture, such as placing a hand on the wrist of a partner, that Ute Mahler captures. But she also shows us an exuberant life that of course existed - and places it in a dialogue with West German leisure activities through the eyes of Joachim Brohm.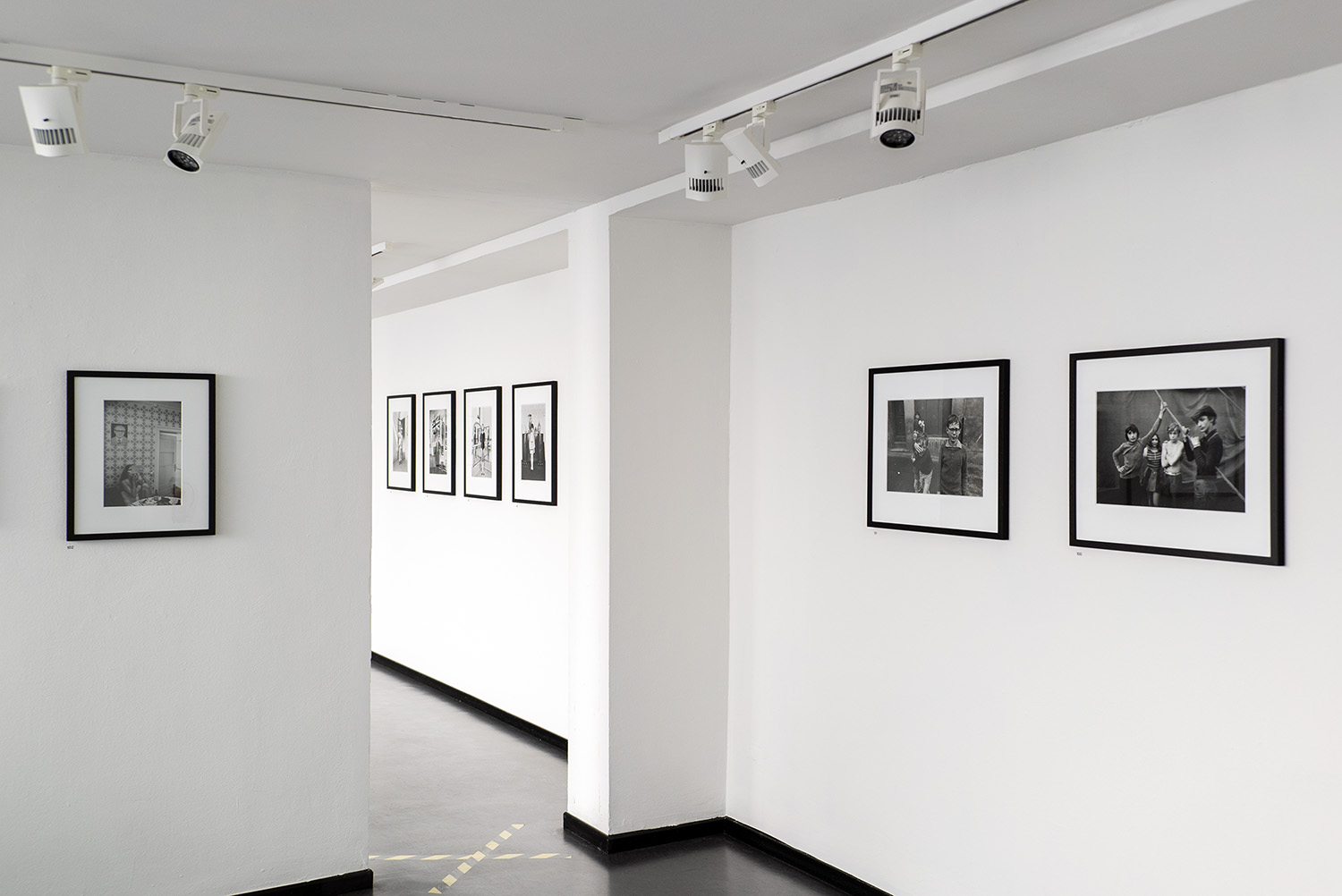 Ute Mahler in dialogue with John Myers
John Myers
In April 1972 John Myers acquired his Gandolfi 4x5 inch plate camera and began a first series of portraits and street shots in his home town of Stourbridge in the West Midlands around Birmingham. He became famous for his precise street scenes and portraits, in which - similar to Bernd and Hilla Becher - he exclusively used even lighting conditions.

In his first publication Middle England from 1974 he showed 20 portraits, which he had taken in his immediate neighbourhood. In contrast to his street, landscape and house photographs taken at the same time, where his intention was "to acknowledge the refusal of this environment to offer a visual or narrative commitment" (Looking at the overlooked, Bristol 2019), John Myers here placed seemingly insignificant motifs in relation to individual persons. Thus, in works such as Mr. and Mrs. Seabourne, institutions often tell us something about people's habits and preferences. Their being at home is thus thematised, even where Mr. Jackson smilingly holds his cigarette in front of a for once non-representational backdrop.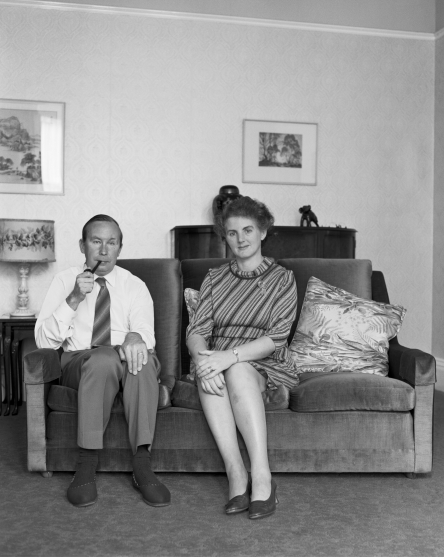 John Myers, Mr and Mrs Seabourne, 1973 © John Myers
Remarkable is the conceptual approach, which in turn recalls the approach of Bernd and Hilla Becher, but also August Sander's People of the 20th century. John Myers not only produced private portraits of his neighbours, but often elevates the individual to the status of a representative of a class or profession with his photographs.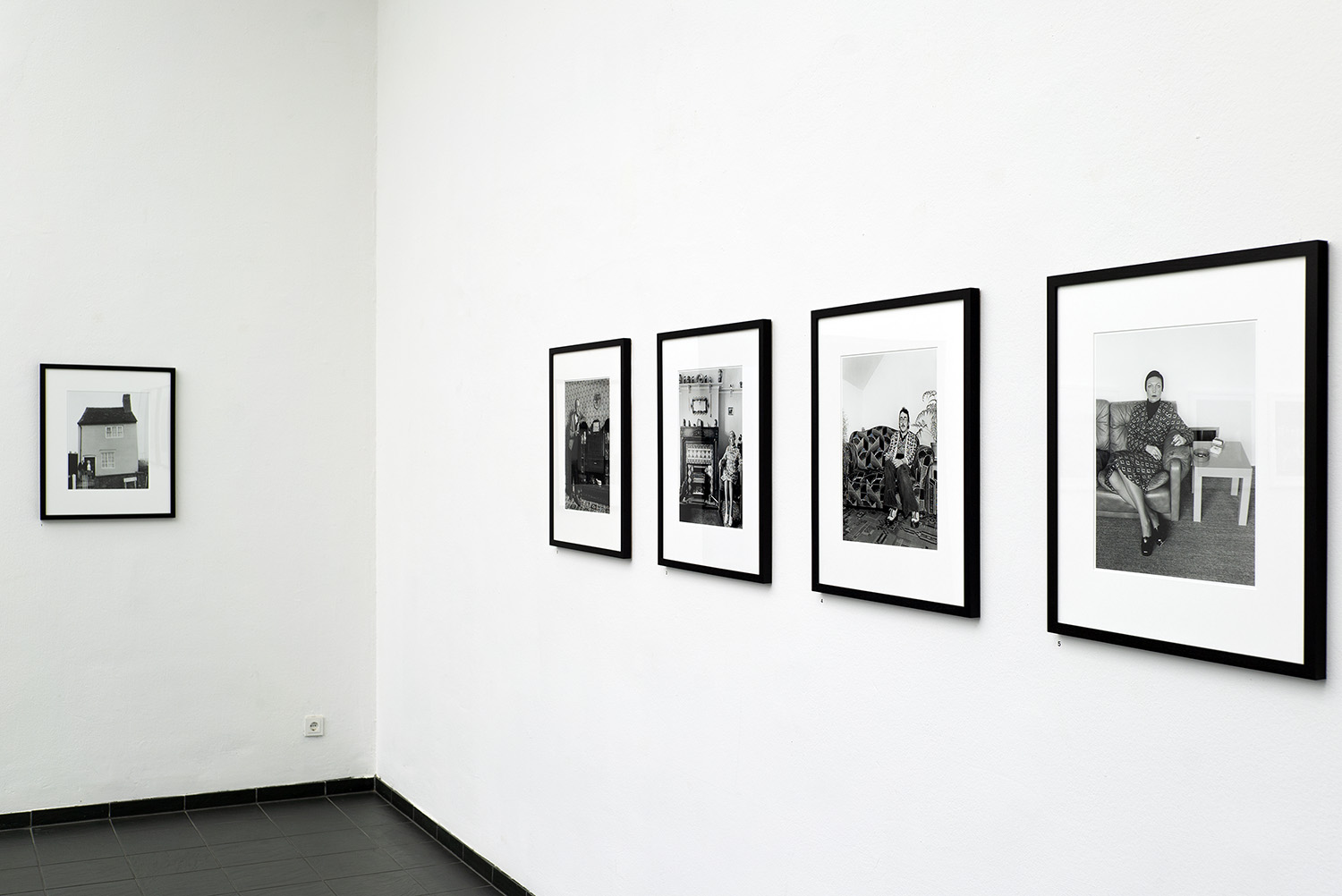 John Myers, portrait-series
John Myers in dialogue with Ute Mahler

In his series Televisions, which John Myers created in 1973, he moves from portrait photography to still life photography, which he again approaches conceptually. Fascinated by the innovation of the mass-produced television set - which can also be found in Ute Mahler's work - Myers takes a look at the most diverse corners where the compact devices were set up or put down.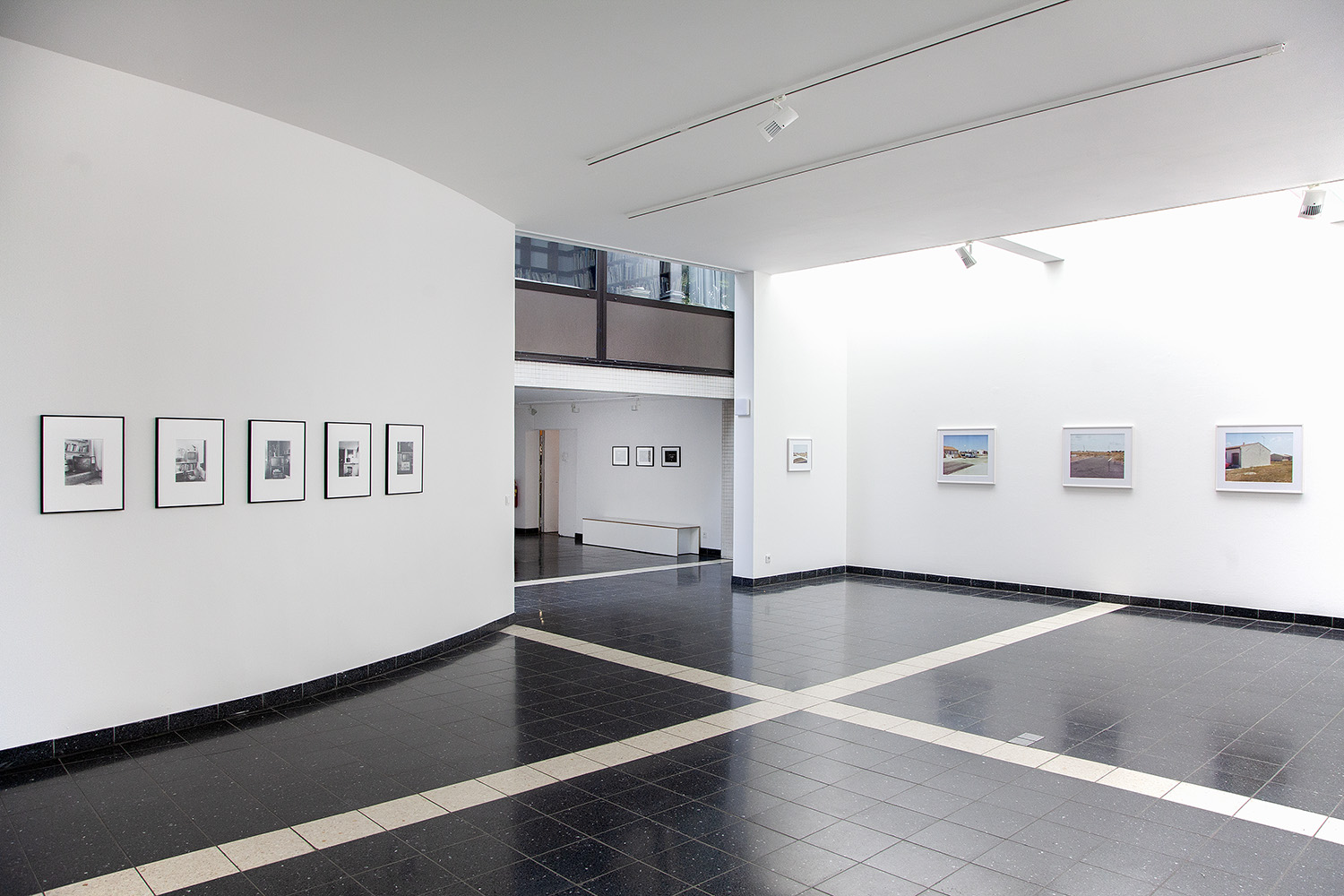 John Myers in dialogue with Joachim Brohm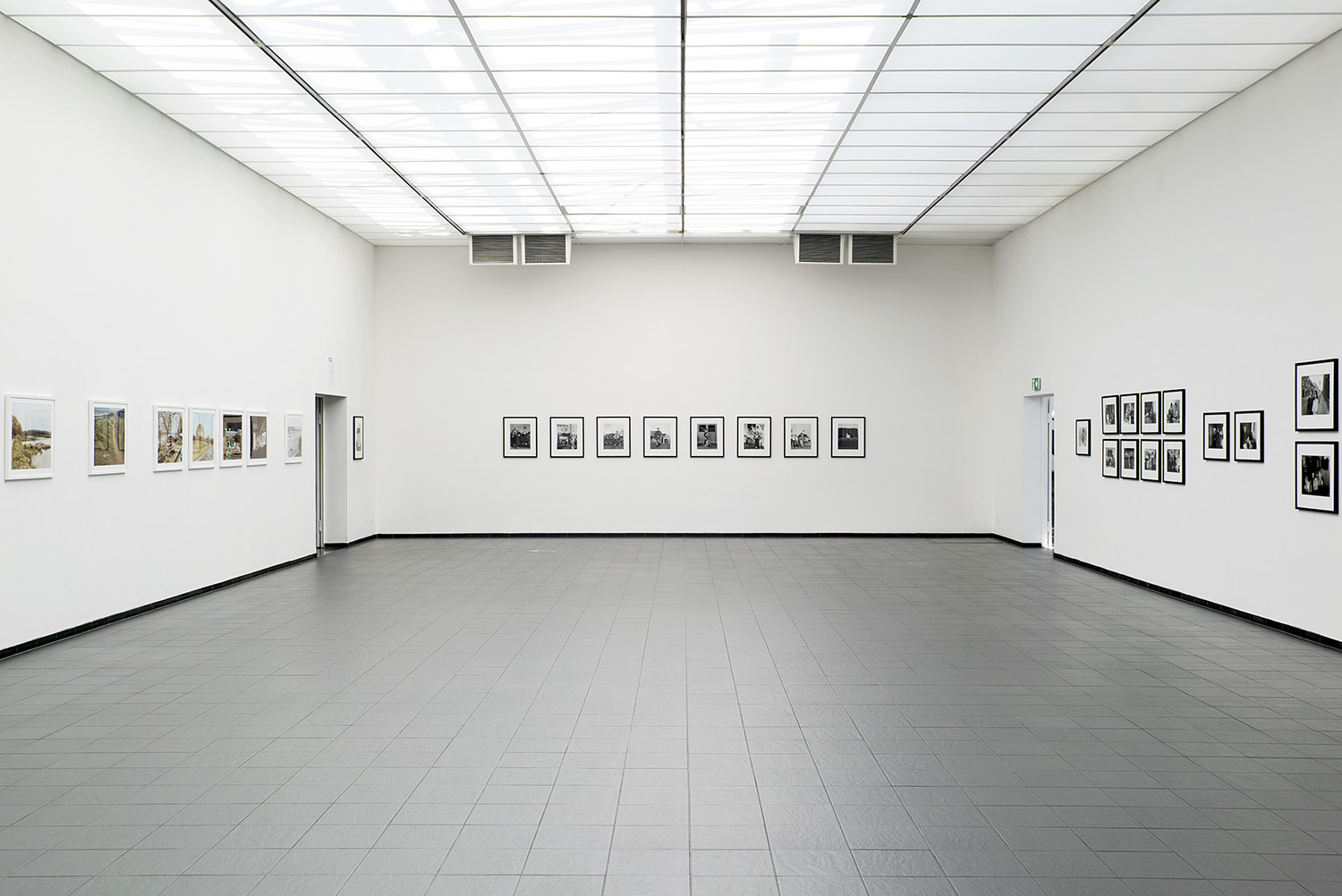 Zusammenleben. Joachim Brohm, John Myers, Ute Mahler
installation photos © IKS-Medienarchiv